Bombay Brasserie has been one of our go-to places for modern Indian cuisine in the city. The two outlets – one in Adyar and the other in Nungambakkam – have a steady flow of connoisseurs trickling in through the week and on weekends; it is difficult to get a table at peak hours. The Mumbai-based chain is on a major expansion spree and had opened its latest outlet in New Delhi. It has also completely revamped its menu by getting some of the culinary favourites from across the country. We got to sample the exhaustive menu recently.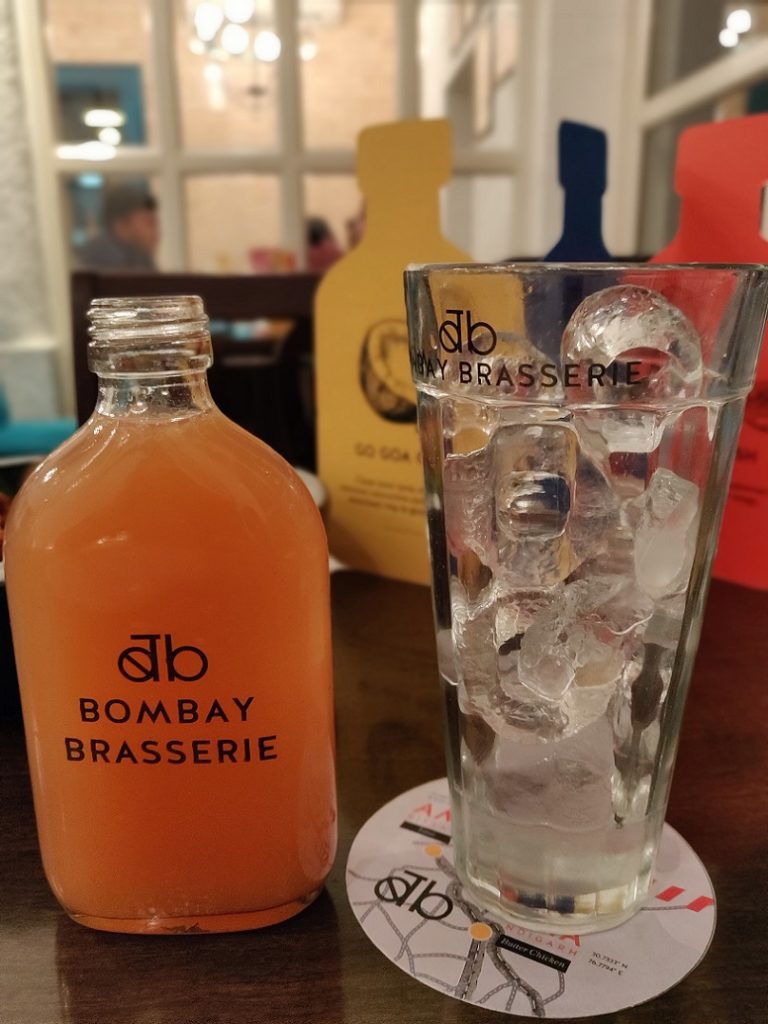 As we waited eagerly to sample the new menu, we were served refreshing Pauwa Mocktails (they serve Pauwa cocktails in other cities) in desi style replete with quarter-sized bottle and glass. We loved the Narangi, an orange flavoured mocktail that set the tone of the things planned for the evening. The menu is divided into starter, small eats, hot plates & street grills, paired curries, main course, accompaniments, biryani and desserts.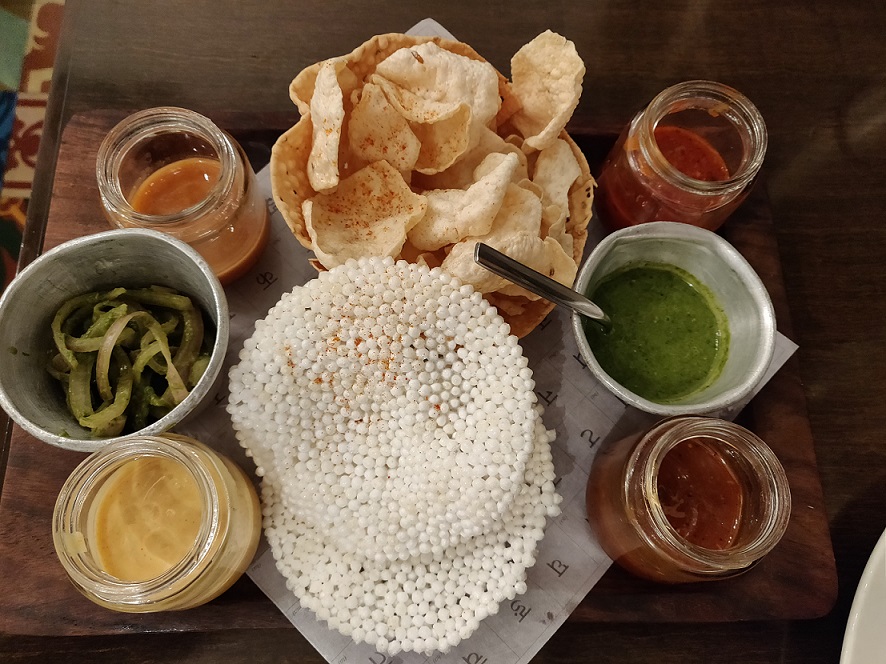 Our lavish meal started with super-soft and mildly meetha Aam Papad Paneer with some Amritsari spices and Gunpowder Potato, masala podi slathered baby potatoes. We were also served 6-Chutney Papad Tokri from the starter section. An assorted aloo, urad and sabu dana papad plate along with a range of six homemade chutneys which include tomato, pudina and mustard. If you love cheese, then do go for Chilly Cheese Kulcha, these are mini bite-sized kulchas stuffed with chilly cheese, a great way to sample Bombay chilly cheese sandwiches in a different form.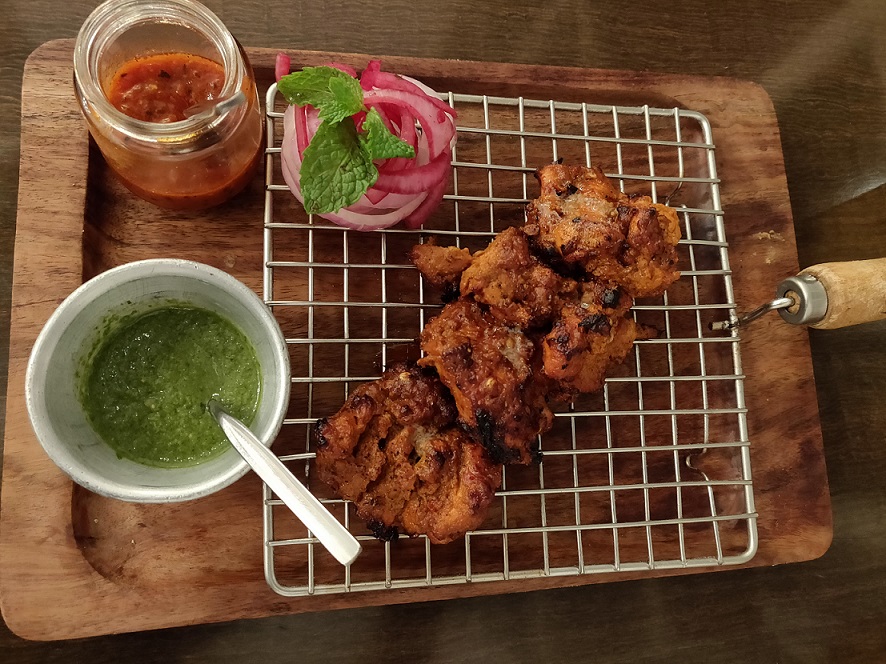 From the non-vegetarian section, we got to try the super spicy Naga Ghost Pepper Wings. These were essentially 'bhoot jolokia' flavoured roasted chicken wings and we absolutely loved them. But if you are not a fan of very spicy stuff, you can rather opt for Rajputana Murgh Soola Kebab, chicken kebabs rubbed with coarsely ground, 'shikaar masala' and cooked on large skewers. We also tried the Calcutta Club Fish Fry, the typical British-era, Bengali fish fry served with 'kashundi' and found it quite authentic and delicious. And for those who devour prawns, there is Marathi Jhinga Mirch in which prawns are tossed in fiery 'mirch ka thecha', a coarsely pounded green chilly chutney along with crunchy peanuts and grated coconut.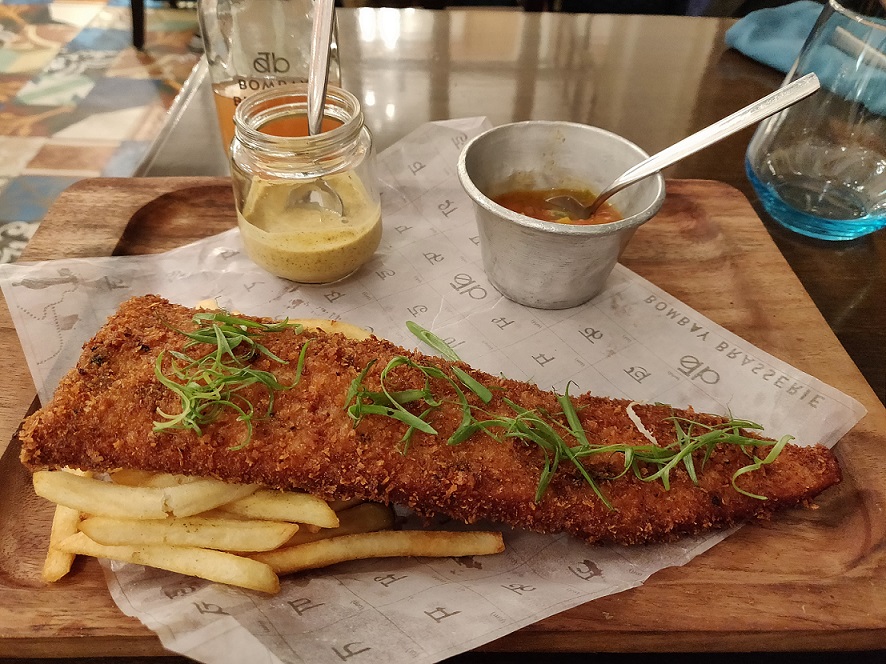 One of their best dishes on the menu is the Kashmiri Naan Kebab. The seekh kebab is prepared with hand-ground, minced meat flavoured with 'kebab chini' and is served along with saffron-brushed naan and accompanied with a Kashmiri yogurt-walnut dip. This is a meal in itself and absolutely divine. Equally delicious is the Keema-Aloo pie with buttery bun maska, a desi take on the British Shepherd's Pie.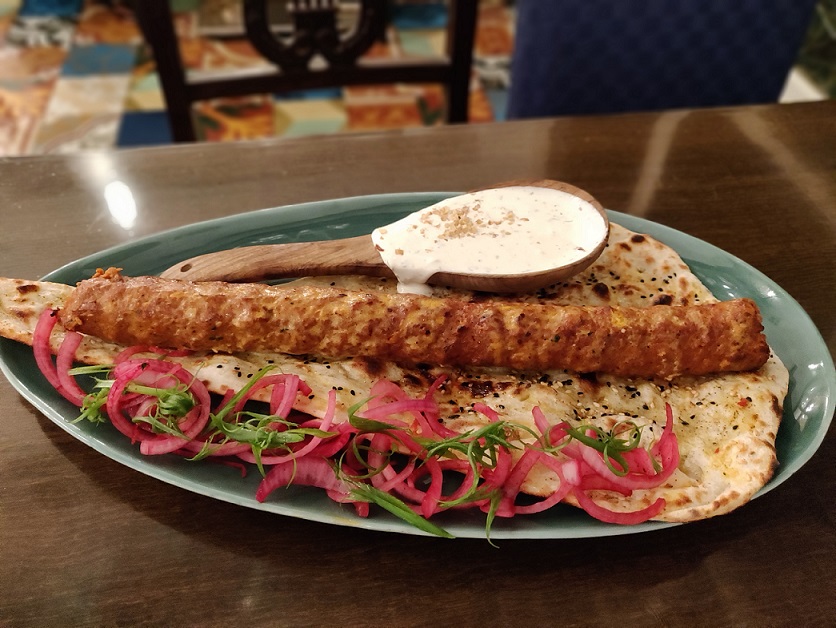 Konkan food enthusiasts can opt for the Mario's Mango Prawn Curry with Coconut Rice. This is traditional spicy and tangy Goan prawn curry offset by ripeness of sweet mango served along with creamy coconut rice.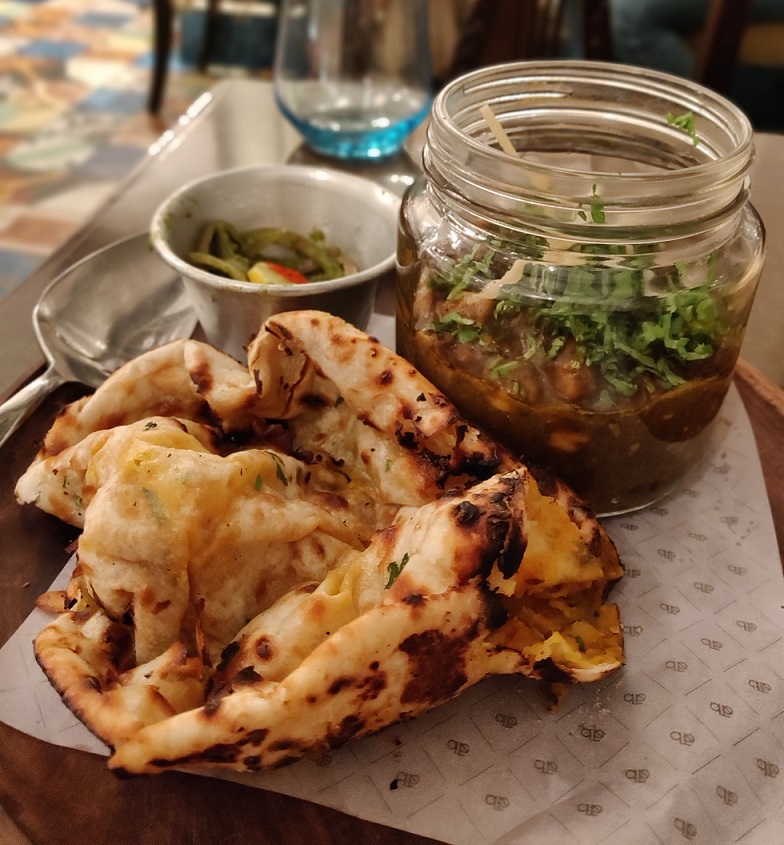 Do not miss their Chatka Choley Kulche, straight from roads of Amritsar. The stuffed aloo kulcha paired with chatakdaar choley and accompanied with pudina chutney wala pyaaz will make you cry with happiness.
We didn't have any space to try out the main course but they have items like Dum ki Kali Dal, Lohe ki Kadhai Ke Aloo, Panch Phoron Chicken and Bombay Dabba Ghosht. They also have accompaniments like Chur Chur Paratha, Roomali Roti and Amritsari Aloo Kulcha. Bombay Brasserie has also added a separate Biryani section to the menu.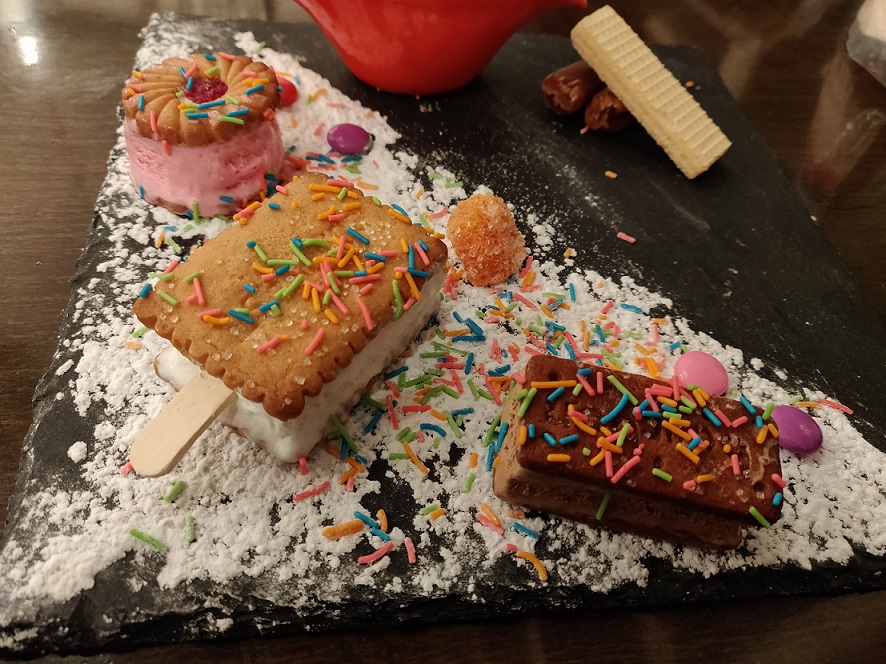 To finish the meal on a sweet note, we only had space for the famous Bombay Ice-Cream sandwich, which definitely brought back a lot of childhood memories of ice-cream sandwiched between Nice and Bourbon biscuits. They also have delicious options like Anglo-Indian Bread Pudding and Amritsari Kulfi. If you are feeling particularly adventurous, try Ras-e-aam, a classice East meets West dessert where Roshogolla nestled in rich rabdi is topped with aamras.
Location: Address and Map Location
Timings: 12 to 3 pm and 7 to 11.30 pm