Last Sunday, discerning music lovers met up to listen to a line-up they didn't know! The venue, Alliance Française of Madras, was also made known to the select audience just a day before. This was Sofar Chennai's ninth meet since their launch last year in July and we managed to enlist ourselves for this one through their website.
To understand the whole concept of Sofar Sounds, we reached the venue a bit early (5.30 pm) and were led to the auditorium by a team of young volunteers. The bands and artistes were engrossed in sound checks as we plopped ourselves on the floor seating near the stage.
We were informed that to keep the setting intimate they had capped the audience to 70, arranged for a floor seating near the stage despite having seats and stripped down the acoustics. And yes, these gigs are free. There was a donation box, where one can pay whatever they feel like.
After a while, the invited audience started trickling in. Since we had come in early, we had ample time to make conversation and found that most of us were united by our love for music. Some were new to Chennai and were looking for like-minded people to befriend and have a good time. Casual conversations and friendly banter did the rounds till it was time for the show to begin.
At 7 pm, one of the volunteers stepped in as the emcee (a really cool one!) and introduced the line-up. The evening was kick-started by city-based four-piece alternative rock band, Attva. They sang originals; mostly poems converted into beautiful songs that talked about love, longing and dedicated a song called Magician to a guy they met at Besant Nagar beach. With their young energy and some great music, Attva was a great start to the night.
This was followed by our favourite act of the evening, a solo performance by Vedanth Bharadwaj. Trained in Carnatic and having performed at numerous Margazhi concerts, the seasoned singer-musician stole our hearts with his melodious renditions of Kabir's poems and Chandrasekharendra Saraswati's Maithereem Bhajata. His performance almost transcended the audience to a different era and Vedanth ensured that he explained the verses before performing the songs. It was not just his songs but his easy charm and casual demeanour that hooked us onto his set.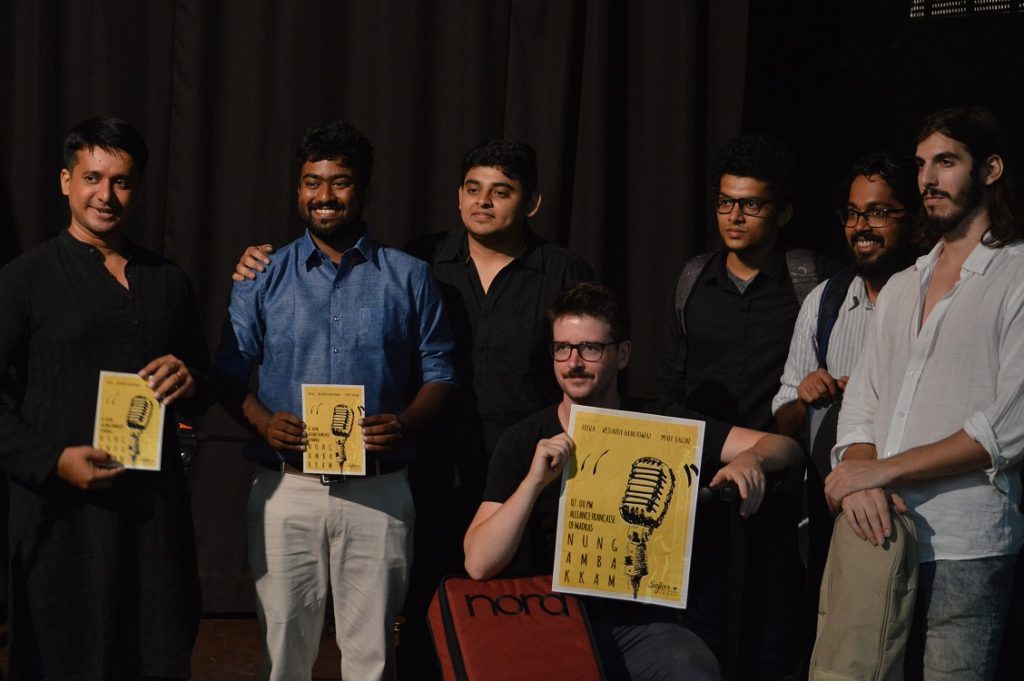 A short 15-minute break was followed by a performance by KM Conservatory's Matt Bacon, who performed his own compositions along with his troupe. His soulful number on the aftermath of Chennai floods received a rousing applause and he ended the session with an impressive guitar jam session.
At the end of the two-hour long gig we were left completely enchanted. Music took centrestage and with no distractions around, it was one hell of an evening. We highly recommend!
 To know more about Sofar Chennai's June gig, check out www.sofarsounds.com/chennai
Discover more things about Chennai: